SENIORS' MATCHES & EVENTS
Seniors' matches are for ladies aged over 50 on the 1st January. The League matches feature seven singles played off scratch. The team is selected based on the players with the lowest handicaps available for the day.
The Friendly matches are normally four ball better ball and we typically play a team of handicap of 8 to 14.

If you would like to be considered to play for the County Seniors please contact the Seniors' Captain, Susanna Mitterer.
There is an annual Inter-County Seniors Team Championship, in which four Seniors are invited to represent the County. Essex is hosting the event in 2020 on Monday 21st September at Rochford Hundred Golf Club.
There are two Seniors/Vets meetings a year (Spring and Autumn), details of which are available on the Competitions Tab. The Dates are 28th April and 7th October 2020 respectively.
There is also a new Midlands South Seniors Championship which started in 2019, which will be held at Copt Heath on 20th August 2020.
At the 2019 AGM, County Senior Colours were awarded to Julia Gallagher (Woburn), Irene Brien (Beaconsfield) and Susanna Mitterer (Woburn).
County Seniors team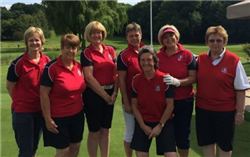 Archive