SENIORS' MATCHES & EVENTS
Seniors' matches are for ladies aged over 50 on the 1st January. The League matches feature seven singles played off scratch. The team is selected based on the players with the lowest handicaps available for the day.
The Friendly matches are normally four ball better ball and we typically play a team of handicap of 8 to 14.

If you would like to be considered to play for the County Seniors please contact the Seniors' Captain, Susanna Mitterer.
There is an annual Inter-County Seniors Team Championship, in which four Seniors are invited to represent the County. Essex is hosting the event in 2020 on Monday 21st September at Rochford Hundred Golf Club.
There are two Seniors/Vets meetings a year (Spring and Autumn), details of which are available on the Competitions Tab. The Dates are 28th April and 7th October 2020 respectively.
There is also a new Midlands South Seniors Championship which started in 2019, which will be held at Copt Heath on 20th August 2020.
At the 2019 AGM, County Senior Colours were awarded to Julia Gallagher (Woburn), Irene Brien (Beaconsfield) and Susanna Mitterer (Woburn).
County Seniors team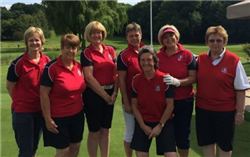 Seniors' South Eastern Team Championship
BCLGA hosts the Inter County Senior Team Champs in 2019
BCLGA hosted the Inter County Senior Team Championship at
Woburn Golf Club
(The Dukes Course) on
Monday, 23rd September 2019
.
Format:
18 holes scratch stroke play; teams of four, aged 50 or over on 23rd September 2019. Best three scores to count.
Many congratulation to the Sussex Senior Ladies have successfully defended their title with a winning score of 243 (+18). Players: Paula Carver, Aileen Greenfield (who posted the second lowest score of 78), Clarissa Bushell and Katherine Russell. Senior Captain: Chris Hanson
Oxfordshire came second with a score of 249 (+24).
The lowest individual score on the tough Dukes course was posted by Jackie Foster (Herts) with a 77 (+1).
Senior Spring Meeting 2019
Woburn teams dominate this years Seniors Spring Meeting at Buckingham
All 4 Woburn teams were in contention for the winning place at this year's Senior's Spring Meeting held at Buckingham Golf Club on Tuesday, 30th April 2019 but the team of Phillipa Cook, Sheila Harrison and Clare Fulton beat their club mates of Lindsay Arnell, Jo Pellew and Lind Wray by 2 points to take the title with 73 points. 3rd and 4th place were also occupied by Woburn teams on 70 points.

Lindsay Arnell of Woburn won the Individual Prize with 36 points.

Buckingham Golf Club was is great condition with very tricky but excellent greens (as commented on by many of the ladies). They served us a delicious lunch of fish pie or chicken in a savoury red wine sauce followed by raspberry mouse and shortbread biscuit or lemon tart.
2019 Senior Captain's Report
Improved performance from our Senior Team
I am extremely delighted to announce that the Bucks Senior Team came third in the League (with 4 points) behind winners Berkshire and Hampshire (both on 6 points). It was a tightly fought league with Berkshire winning on 18.5 matches won versus Hampshire's 18 matches. Our Bucks Senior Team won 13 matches and I am very proud of this years' valiant effort. Great thanks goes to all those who played!
Friendly Matches


We played two friendly matches: beating Bedfordshire 4:0 and halving with Middlesex 2:2. Again, my thanks to all Senior Ladies who played in our Friendly Matches.
Seniors Autumn Meeting 2019
Vets dominate the Autumn Meeting at Oakland Park
Finally the weather gods granted us a sunny and dry day, and Vets, Sue Davies, Maureen Smith and Janet Merritt from Beaconsfield took full advantage to win the Seniors Autumn Meeting at Oakland Park on 2nd October with 83 points. Runners up were Alison Thorne, Anne Higson and Gillian Pugh from Oakland Park with 82 points.

The Seniors Trophy went to the 3-ball alliance from Wexham Park: Pam Heavyside, Jackie Taylor and Alison Scanlon with 79 points.

Many thanks go to the team at Oakland Park for their warm welcome and presenting the course nicely despite the recent adverse weather!